You have invested time and money building your customer base, creating the right ambience and training your staff. Let AquaForce ensure that a grease fire never affects your business.
Contact AquaForce for the ultimate in commercial kitchen exhaust system cleaning in southern Ontario.
Busy, high-profile restaurants, restaurant chains, grocery stores, commercial kitchens, arenas, convention centres, catering companies and hotels rely on AquaForce for protection from the hazards of grease buildup.
We are fully bonded and insured, and our professionally trained and certified technicians will arrive promptly, work efficiently and respect your staff and facility.
With AquaForce:
Your kitchen's exhaust system will be thoroughly cleaned, not just the parts you can see but the hard-to-reach areas as well.
Your kitchen's exhaust system will pass a fire department safety inspection.
Your kitchen's exhaust system will meet your insurance company's requirements for safe operation.
Your kitchen will be left as clean as it was before the AquaForce team arrived.
You will learn about potential mechanical problems as we find them, allowing you to arrange for preventive maintenance.
How Often Should Kitchen Exhaust Systems be Cleaned?
There are many factors that determine the frequency of kitchen exhaust duct cleaning:
The type of cooking process (steaming, grilling, frying)
Usage per day
The type of oil being used
Grease filter maintenance
Amount of air flow
Ambient Temperature
A visual inspection of the exhaust hood, filters and behind the filters will give some guidance.
Before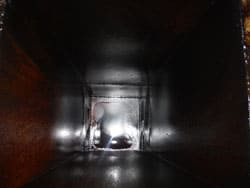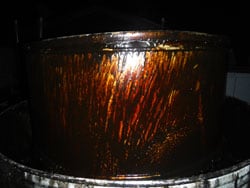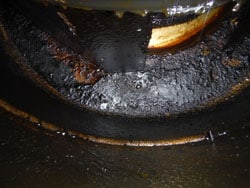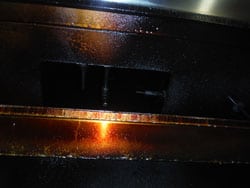 After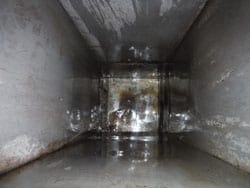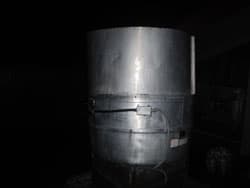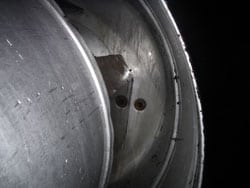 As a General Rule of Thumb
Kitchen Exhaust Systems are designed to pull smoke, grease vapours and cooking residues out of the kitchen area. The filters can never eliminate all residue from the inside of the ducts and fan surfaces.
Usage               Hours Per Day          Clean Frequency
Heavy Usage                               12 – 16 Hours                                3 Times Per Year
Moderate Usage                           6 – 12 Hours                                 2 Times Per Year
Light Usage                                   2 – 6 Hours                                  1 Time Per Year
Over a Short Period of Time, Enough Grease will accumulate to create a very serious fire hazard.
When a Fire takes hold in the exhaust system above the cooking equipment the grease in the ducts acts as a fuse allowing the fire to spread rapidly through the ducts to other parts of the building.
When a duct system is cleaned regularly the chance of a duct fire is dramatically reduced.
AquaForce will provide a comprehensive duct inspection and cleaning service tailored to meet your specific requirements.
You won't have to worry about your next cleaning. AquaForce will work with you to organize a schedule for future cleanings and then take responsibility for managing the follow-up.